LATEST PUBLIC NOTICE August 13th, 2020:
On August 10th, 2020, Konocti Vista Casino and Resort, found out that one of their employees had tested positive for COVID-19. As a precautionary measure, we immediately closed the property to focus on deep cleaning and contact tracing for guest, employee and community safety. All available information and contact tracing currently indicates that this employee did not contract COVID-19 at Konocti Vista Casino and until the positive result came back, was not symptomatic. Once the results were confirmed, medical health authorities and Konocti Vista Casino management advised the employee to immediately begin self-quarantine. In addition, contact tracing showed this employee had very limited contact with the public and other team members, but any employees that came in close contact, are being tested as an added precaution and won't be returning to work until they receive a negative test result.
In the spirit of full disclosure and public safety, we are suggesting that any guest and/or employee that was in the facility from August 1 to August 9, take a moment to access their own health and if they feel any symptoms such as the following, they should contact your doctor or medical professional.
Fever

Nausea

Body aches

Any flu like symptoms
If anyone feels that you want to get tested we are including this link to, August 7 Lake County COVID-19 Update from Dr. Gary Pace, MD,MPH, that outlines and shares additional links for testing and tools to help us through this Pandemic. http://www.lakecountyca.gov/Government/PressReleases/Update080720.htm
Konocti Vista Casino and Resort's number one priority continues to be the safety and wellness of our guests, employees and community. We continue to take the extra steps to follow and exceed the safety protocols established by the CA government, CDC, CDPH, and OSHA and during this closure, as an additional step, we brought our professional cleaning company back in to deep clean, sanitize and disinfect the entire property.
Our original plan was to reopen this Friday but due to some staff concerns and wanting to take a little more time to do additional deep cleaning, we will now be opening on Monday August 17, 2020 at 8:00am.   
While, this immediate temporarily closure might seem extreme to some, we hope it makes clear, Konocti Vista Casino and Resort's commitment to transparency of communication and dedication to the safety of our community. We would like to thank our guests and employees for their understanding and support as we all work to get through this together.
Sincerely,
Konocti Vista Casino & Resort Management 
August 10th Update:
Konocti Vista Casino & Resort, has confirmed one of its employees has tested positive for COVID-19, and as a precautionary measure, we are going to be temporarily closed immediately August 10th, 2020 until Friday, August 14th, 2020 at 8am. As we have said from the beginning of this pandemic, the safety of our guests, employees and community is our number one priority. It is with that deep level of concern that we, at Konocti Vista Casino & Resort Management have decided to temporarily close, until all safety procedures and contact tracing have been completed.
As soon as this employee found out the positive status, they let us know immediately and they have not been on property since they received the results. All employees who had contact with the employee on or before today are being contacted and are being tested as an added precaution. Additionally, we are collecting all available information and following contact tracing procedures to confirm where the employee/guest contracted COVID-19. At this time, we have not heard of any contact tracing that leads back to Konocti Vista Casino, but in the event that changes, we will be the first to let the public know.
Konocti Vista Casino & Resort Immediately contacted the Lake County Department of Public Health and the Lake County Public Officer, to access the risk, establish tracing guidance, and best steps to work through this process.
All our Team Members have been following our stringent safety protocols and guidelines that were set in place by the CA government, CDC, CDPH, and OSHA, both with our employees and guests. During this temporary closure, we will bring in our professional cleaning company back in to sanitize and disinfect the entire property, so we can open the doors with confidence for everyone's safety.
The Hotel will remain open to the currently guests for this evening only, and they will be asked to leave tomorrow August 11th, 2020. We truly appreciate their understanding.
While people should not be ashamed by contracting this virus as it is a worldwide pandemic and everyone is at risk, we take these recent cases very seriously and want to assure the public, that we will continue our transparency with our community by sharing the latest information and will continue to update the public as we learn more. Stay Safe.  
Please know that all drawings have been canceled until Friday August 14th, 2020.
PAST PUBLIC NOTICE INFO In accordance with Govenor Gavin Newsom's July 13th, 2020 press release and the latest order for the state of California, Konocti Vista Casino & Resort, will be temporarily closing Valentino's Restaurant and the Point Bar.  Please note, that the Hotel, RV Park, Snack Bar, Marina Grill will remain open to the public with the following hours. As with all CA phases of reopening, we continue to following all policies, practices, and guidelines established by the CA Government, CDPH, CDC and OSHA.
The following are the modified hours, plus a detailed breakdown of the Safety Program. We all know that during this new time, it is an ever changing environment right now, so please feel free to keep checking in by phone, website, and/or on our Facebook for the latest updates.
Thank you and we look forward to seeing all of you soon!
Sincerely,
Konocti Vista Casino Management
---
HOURS OF OPERATION: As of July 13th, 2020
Marina/Boat Launch/Fishing Tournaments:
The marina and the boat launch are open to the public.
Fishing Tournaments are being allowed with approved social distancing guidelines laid out between Konocti Vista Casino & Resort and the tournament directors.
We are asking spectators to respect the guidelines and not attend weigh ins.

For more information on Fishing Tournaments Safety Guidelines and Protocols please click HERE.
TEMPORARILY CLOSED:
Valentino's Restaurant: Temporarily Closed as of July 13th Announcement
Point Bar : Temporarily Closed as of July 13th Announcement
Table Games
Event Center, Bar and Restaurant
---
Konocti Vista Casino Safety Program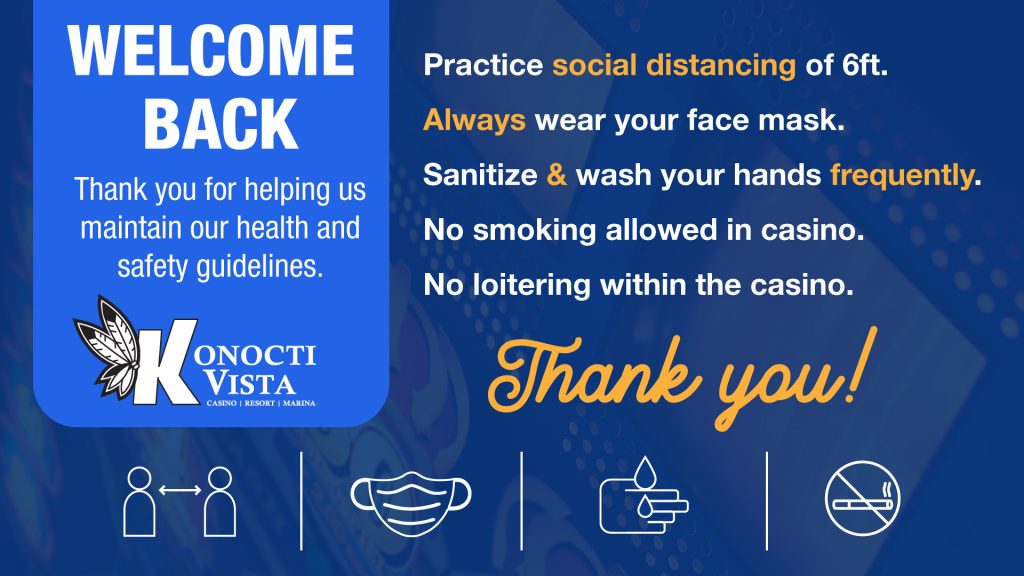 We have implemented new safety enhancements for our guests and employees. From non-contact temperature screening, modifying the gaming floor to allow for social distancing, to requiring all guests and employees to wear face masks or face coverings before entering the casino. It was with much care and thought that we prepared these new safety measures and guidelines and we have outlined them in detail below for your consideration.
Employee & Guest Health Plan:The health and safety of our employees and guests is our number one priority.
Non-Contact Temperature Screening: Points of entry will be limited to allow our security team to conduct noninvasive temperature checks utilizing the Non-Contact Temperature device. Employees or guests confirmed to have a temperature over 99.5°F will not be allowed entry to the property and will be directed towards appropriate medical care.
Physical Distancing. Guests will be advised to practice physical distancing by standing at least six feet away from other groups of people not traveling with them while standing in lines, using elevators or moving around the property. Slot machines and other physical layouts will be arranged to ensure appropriate distancing. Employees will be reminded not to touch their faces and to practice physical distancing by standing at least six feet away from guests and other employees whenever possible. All resort outlets will comply with, or exceed, local or state mandated occupancy limits.
Gaming Distancing. KVC is utilizing a new software from our gaming system to create a social distancing gaming experience. All machines are active but in standby mode until money or a player's club card is inserted. Once inserted the system will disable one machine to the right and left of the machine being used and is not usable if disabled. When guest cashes out or removes their players club card it will lock until cleaned and service. The system then sends an alert to the monitoring station indicating the machine needs to be cleaned. Once cleaned the machine will be sent back to standby and is ready to be played.
Hand Sanitizer. Hand sanitizer dispensers, touchless whenever possible, will be placed at key guest and employee entrances and contact areas such as driveways, reception areas, hotel lobbies, the casino floor, restaurant entrances, meeting and convention spaces and elevator landings.
Front of the House Signage. There will be health and hygiene reminders throughout the property including the proper way to wear, handle and dispose of masks. Table game electronic signs will also be used for messaging and communication.
Back of the House Signage. Signage will be posted throughout the property reminding employees of the proper way to wear, handle and dispose masks, use gloves (in positions deemed appropriate by medical experts), wash hands, sneeze and to avoid touching their faces.
Employee & Guest Health Concerns. Our employees have been given clear training and instructions on how to respond swiftly and report all presumed cases of COVID-19. We will be ready to provide support to our guests. Employees are instructed to stay home if they do not feel well and are instructed to contact a manager if they notice a coworker or guest with a cough, shortness of breath, or other known symptoms of COVID-19.  Employees and guests who are exhibiting any of the symptoms of COVID-19 while at the property are instructed to immediately notify their manager (employees) or hotel security (guests).
Case Notification. If we are alerted to a presumptive case of COVID-19 at the resort, we will work with the SNHD to follow the appropriate actions recommended by it.
1 https://www.cdc.gov/coronavirus/2019-ncov/hcp/infection-control-recommendations.html