Located in beautiful Lake County, California, the hotel overlooks our private marina on historic Clear Lake, one of the premier large mouth bass fishing areas in the United States.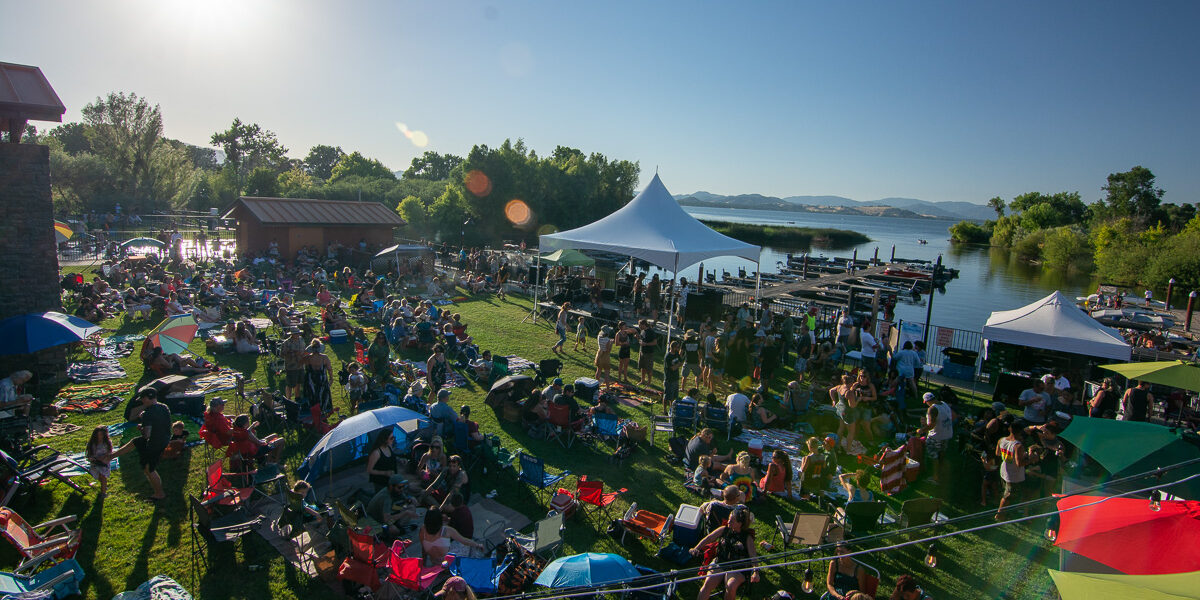 Escape to Konocti Vista Casino, the ultimate destination for a family-friendly getaway filled with entertainment and activities for all ages. We pride ourselves on providing an unforgettable experience that caters to every member of the family. Our Fun Zone Arcade offers endless fun for both kids and adults, with exciting games and prizes that will keep everyone entertained. Bond over friendly competition and create lasting memories as you immerse yourself in our vibrant atmosphere. Additionally, our Free outdoor Summer Music Series is open to all ages, providing a platform for families to groove to the rhythms of talented artists together. Experience the magic of live performances on our scenic Hotel Marina Lawn, surrounded by the breathtaking beauty of the lake. Whether you're looking for thrilling games, live music, or quality family time, Konocti Vista Casino is the perfect destination for an unforgettable family getaway.
Discounts are available to Good Sam, Escapees, AMA (American Motorcyclist Assoc.), AARP & AAA members.
Accepted methods of payment: Cash, Visa/MasterCard.
HOTEL
Experience Unparalleled Comfort and Convenience at Konocti Vista Casino and Resort's Hotel
Comfortable Hotel Rooms:
Enjoy your stay in of our hotel rooms, thoughtfully designed to provide you with ample space and air conditioning. Relax and unwind in a tranquil environment, surrounded by modern amenities and stunning views of the marina. Each room is meticulously furnished to ensure a restful stay, allowing you to recharge and rejuvenate during your visit to Lake County, California.
Amenities for a Relaxing Stay:
We prioritize your comfort and convenience by offering a range of in-room amenities. Stay connected with our complimentary wireless internet service and catch up on your favorite shows on the cable television. Enjoy a freshly brewed cup of coffee in the morning with the in-room coffee makers. Store your snacks and beverages in the refrigerator, and warm up a quick meal using the microwave. Our air-conditioned rooms guarantee a pleasant temperature throughout your stay, ensuring your relaxation and well-being. Coin laundry and ice makers are available to guests and there is a convenience store located next to the hotel lobby.
Enjoyment by the Marina and Swimming Pool:
Step outside your hotel room and immerse yourself in the beauty of our private sheltered cove marina. Bask in the serene ambiance as you stroll along the waterfront or watch the boats gently glide on Clear Lake. For a refreshing retreat, take a dip in our inviting swimming pool, offering a picturesque view of the marina. Lounge poolside and soak up the sun, or unwind in the shade with a captivating book. The tranquil atmosphere by the marina and swimming pool is perfect for unwinding and creating lasting memories.
Explore Local Attractions:
Venture beyond our hotel and uncover the wonders of the Lake County wine district. Konocti Vista Casino is only a few miles to downtown Lakeport or Kelseyville and is located in the heart of the Lake County wine district. Embark on a journey through scenic vineyards, indulge in wine tastings, and savor the flavors of the region. For nature enthusiasts, a visit to Clear Lake State Park is a must. Immerse yourself in the breathtaking beauty of the park, with its sprawling landscapes, hiking trails, and captivating wildlife. Clear Lake is a premier destination for bird watching. Discover the wonders of Clear Lake, where you can engage in various water activities such as fishing, boating, and kayaking. The hotel's prime location allows you to easily explore these captivating destinations and make the most of your Lake County experience.
At Konocti Vista Casino and Resort's hotel, your comfort and enjoyment are our top priorities. Experience spacious and comfortable rooms, indulge in in-room amenities, and take advantage of our prime location near the marina and swimming pool. Explore the renowned Lake County wine district and the natural wonders of Clear Lake State Park, creating unforgettable memories during your stay with us.
RV PARK
Discover the Finest RV Park Accommodations at Konocti Vista Casino and Resort
9/9/9 RV Campground rating by Goodsam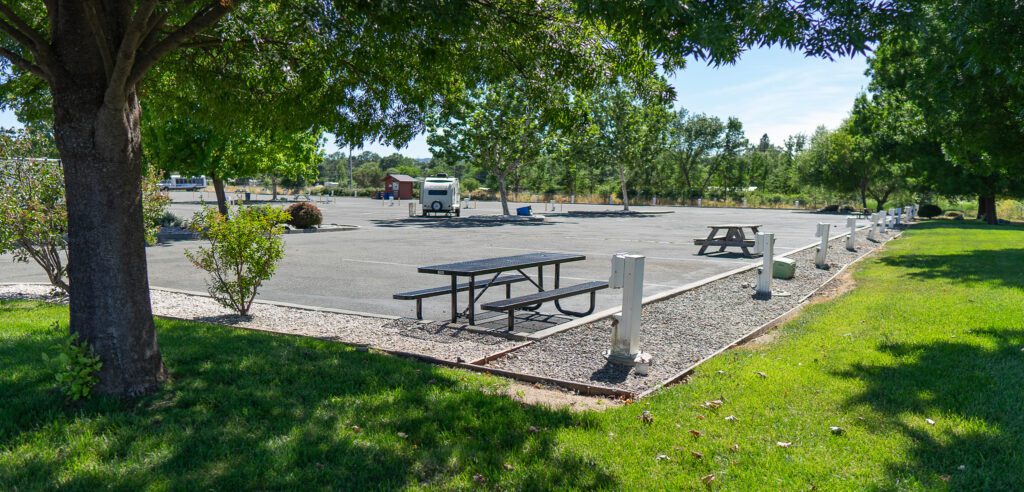 Premium RV Park Accommodations:
Experience the pinnacle of comfort and convenience at our premium RV Park. Nestled just steps away from the casino, restaurant, marina, and the captivating Clear Lake, our RV Park offers an unparalleled experience for RV enthusiasts. With spacious sites and top-notch facilities, we provide a welcoming home-away-from-home for your adventures. Enjoy 50 & 30 amp service hookups, ensuring your RV's power needs are met, and take advantage of cable TV availability to stay connected and entertained. Our swimming pool at the marina offers a refreshing oasis, while the free boat launch provides easy access to the sparkling waters. With upgraded WiFi, washer and dryer facilities, showers, restrooms, and 24-hour security, our RV Park sets the stage for an exceptional stay.
Convenient Amenities for RV Guests:
We understand the importance of convenience during your RV travels. Our RV Park offers a range of amenities designed to enhance your experience. Stay active and maintain your fitness routine at our state-of-the-art Fitness Center, featuring Nordic-track stationary bikes, treadmills, stair steppers, weight machines, and pull-up bars. Open 24 hours a day, our Fitness Center welcomes all RV Park and hotel guests. For your peace of mind, we provide 24-hour security to ensure a safe and secure environment throughout your stay. Additionally, our convenient convenience store is stocked with essentials and supplies, catering to all your needs right on-site.
24-Hour Security and Peace of Mind:
Your safety and peace of mind are of utmost importance to us. That's why our RV Park features 24-hour security measures to ensure a worry-free stay. Rest easy knowing that our vigilant security team is dedicated to maintaining a secure environment for all guests. From well-lit areas to surveillance systems, we strive to create a safe and comfortable atmosphere throughout our RV Park. Enjoy the tranquility of your surroundings and make the most of your stay, knowing that we prioritize your security and peace of mind.
Experience the pinnacle of RV Park accommodations at Konocti Vista Casino and Resort. Enjoy premium amenities, including convenient facilities, a fully-equipped Fitness Center, and round-the-clock security. Create lasting memories in the beauty of Clear Lake, knowing that we are committed to providing a safe and comfortable environment for your RV adventures.
MARINA
Indulge in a Serene Marina Experience on Clear Lake at Konocti Vista Casino and Resort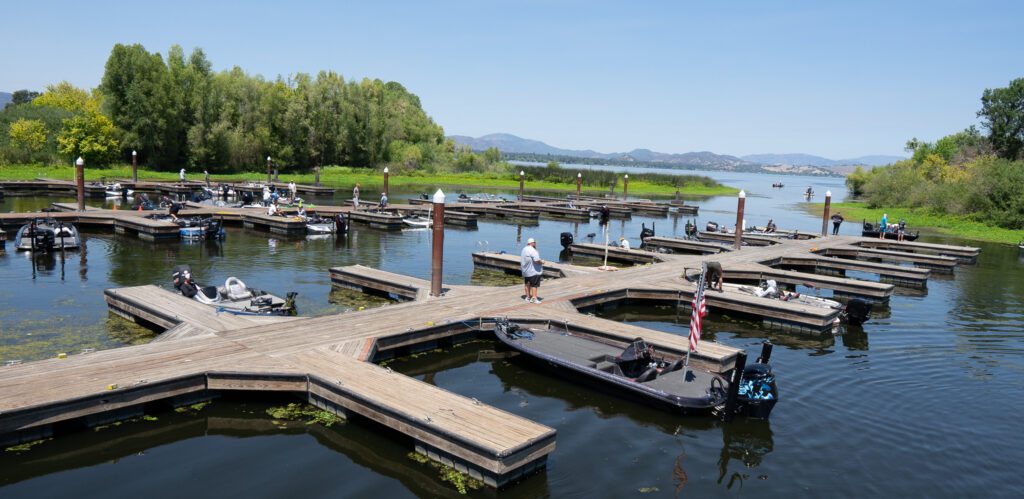 Serene Marina Experience on Clear Lake:
Escape to our marina, a tranquil haven nestled on the shores of the picturesque Clear Lake. Immerse yourself in the serene beauty of the surroundings, where the calm waters and breathtaking landscapes create a peaceful atmosphere. Bask in the soothing ambiance as you take in the sights and sounds of nature, making every moment at our marina a truly rejuvenating experience.
Sheltered Cove Protection:
Experience peace of mind as you dock your boat in our marina's sheltered cove. Our carefully designed layout provides protection for all 90 boat slips, shielding them from wakes and ensuring a calm and secure environment for your watercraft. Rest easy knowing that your boat is sheltered from any potential disturbances, allowing you to fully relax and enjoy your time on the water as well as 24/7 surveillance and security patrols.
Convenient Electrical Outlets for Every Boat Slip:
At Konocti Vista Casino and Resort's marina, we prioritize your convenience and ensure that every boat slip is equipped with a 10-gauge electrical outlet. Whether you need to charge your boat's batteries or power your onboard electronics, our reliable electrical outlets offer convenience and ease of use. Say goodbye to worrying about power supply and focus on making the most of your time on the lake, knowing that our marina provides the essential amenities to meet your boating needs.
Complimentary Boat Launch for Hotel Guests:
As our valued hotel and RV park guest, we invite you to take advantage of our complimentary boat launch services. The Marina Boat Launch is open between the hours of 8am and 8pm. Launch your watercraft and embark on unforgettable adventures exploring the vast expanse of Clear Lake. Whether you're an avid fisherman or simply seeking a day of leisure on the water, our convenient and complimentary boat launch ensures easy access to the lake for endless hours of enjoyment. We suggest fisherman get their boats in the Marina the day before by 8pm if they want to leave early in the morning, which is traditional.
All other guests $10 fee per boat per day, ramp and daily marina usage. Please pay these fees at the hotel convenience store. Ask about our Yearly Boat Launch pass for $190.00 per calendar year.
Fishing Opportunities and Dock Access:
For fishing enthusiasts, our marina is a gateway to a world of angling opportunities. Cast your line into the pristine waters of Clear Lake, known for its abundant fish population, including the renowned large mouth bass. Take advantage of our dock access, providing a convenient spot to fish, relax, and soak in the beauty of the lake. There is a $10 per person per day, fee to fish off the docks. Please pay these fees at the hotel convenience store. Whether you're a seasoned angler or a novice fisherman, our marina offers the perfect setting to pursue your passion and reel in your catch of the day.
Yearly Boat Launch Pass and Premium Fuel Services:
For those who frequent the lake, we offer a Yearly Boat Launch Pass for $190 per calendar year, providing unlimited access to our boat launch services throughout the calendar year. Enjoy the convenience and savings as you embark on numerous boating adventures. Additionally, our marina features premium fuel services on the water, ensuring your watercraft is ready for your next outing. Fill up your tank with ease and get ready to explore the wonders of Clear Lake with peace of mind.
K STORE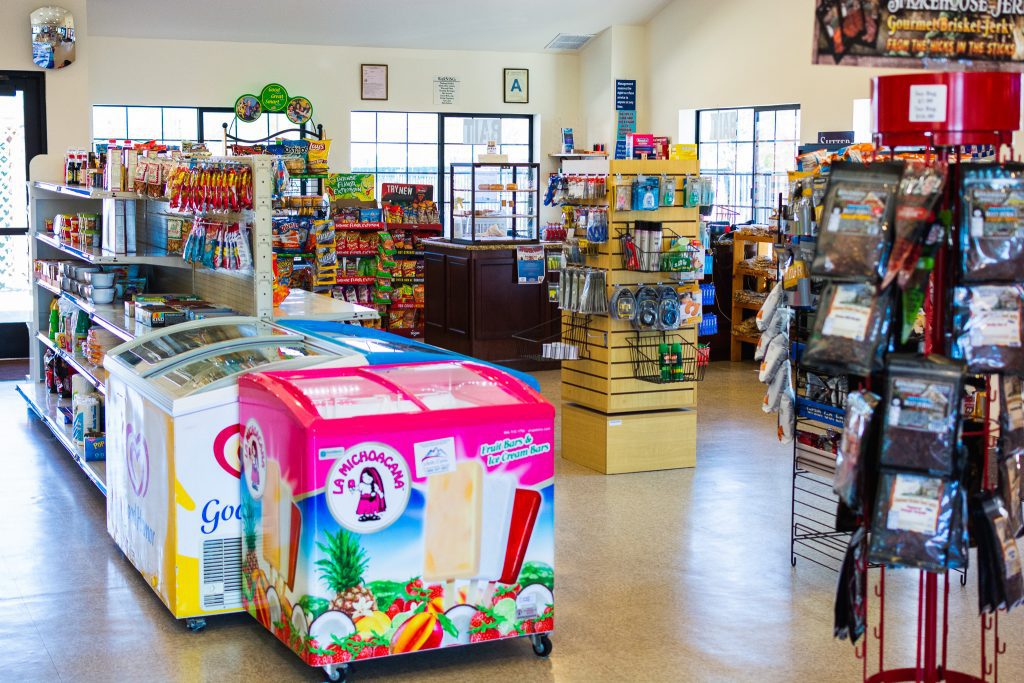 One-Stop Shop for Your Marina Needs:
Wide Selection of Beverages and Snacks: Stay refreshed with a variety of beverages, including beer, wine, sodas, and milk, and satisfy your cravings with a range of snacks and treats.
Essential Supplies and Seasonal Clothing: Find everything you need, from sunscreen and coolers to stylish seasonal clothing, ensuring you're prepared for a day on the water.
Boat Fuel, Launch Passes, and Fishing Supplies:
On-Site Boat Fuel: Conveniently refuel your watercraft at our marina's fuel station, ensuring uninterrupted enjoyment on Clear Lake.
Boat Launching Passes: Hotel and RV Park guests enjoy complimentary access to our boat launch, while the public can purchase affordable launch passes.
Fishing Supplies: Enhance your fishing experience with a selection of fishing lines, lures, and other essential supplies.
Rentals and Compliance:
Seasonal Watercraft Rentals: Add more excitement to your lake adventure with seasonal rentals of kayaks, SUPs, and paddle boats.
Quagga Mussel Stickers: Stay compliant with County of Lake regulations by purchasing the mandatory Quagga Mussel stickers at our convenience store.
Visit our Convenience Store at Konocti Vista Casino's Marina, your ultimate one-stop shop for all your marina needs. From refreshing beverages and snacks to essential supplies and seasonal clothing, we have you covered. Fuel up your watercraft, access our boat launch, and find fishing supplies to enhance your angling experience. Explore our rentals and stay compliant with Quagga Mussel stickers. Enjoy the convenience and ease of finding everything you need in one place, ensuring a seamless and enjoyable time on Clear Lake.