All Ages Welcome. No age curfew!
THU 4PM-9pm • FRI 4pm-12AM
SAT 11am-12am • SUN 11am-10pm
The arcade will be closed Monday-Wednesday during fall season. Contact us about private events during closed hours.
Welcome to the Fun Zone arcade, located at Konocti Vista Casino, where the fun never stops! Our family-friendly arcade is open to the public and perfect for all ages. Whether you're looking for a fun-filled day out with the family or a unique party venue, we have something for everyone. The Fun Zone Arcade has a separate entrance from the casino located to the left of the main entrance. No smoking permitted indoors.
At the Fun Zone, you'll find a wide selection of games and attractions to keep you entertained for hours. From classic arcade games like Pac-Man and Space Invaders to modern favorites like air hockey, claw games and skee-ball, we have it all. Best of all, all of our games cost just $1 to play*, so you can enjoy as much fun as you want without breaking the bank. Load up your Fun Zone Arcade play card at the Arcade Kiosk or at the Arcade Help Desk. Also, Arcade Play and Tickets earned do not EXPIRE, however we strongly recommend you register your card to ensure we can restore your totals in the event that you lose or misplace your Fun Zone Arcade Play card. You can register your card at the Kiosk or the Arcade Help desk. Plus by registering you are added to our email list for special promotions and offers including birthday prizes! (*except the VR King Kong of Skull Island which costs $5 to play and requires an arcade attendant's assistance to play.)
In addition to our arcade games, we also offer party station rentals. Whether you're hosting a birthday party, corporate event, or just a fun get-together, our party stations are the perfect choice. We offer a variety of party packages to suit any budget, and our team will work with you to create a memorable experience that your guests will love. All Party Packages come with various amounts of UNLIMITED PLAY cards. UNLIMITED PLAY cannot be used on Merchandise dispensing games include the Crane Games, Minecraft Arcade and Injustice, also UNLIMITED PLAY does not accrue tickets. Party package details are listed below in a graphic with details. Contact us directly for more information at 707-262-3269.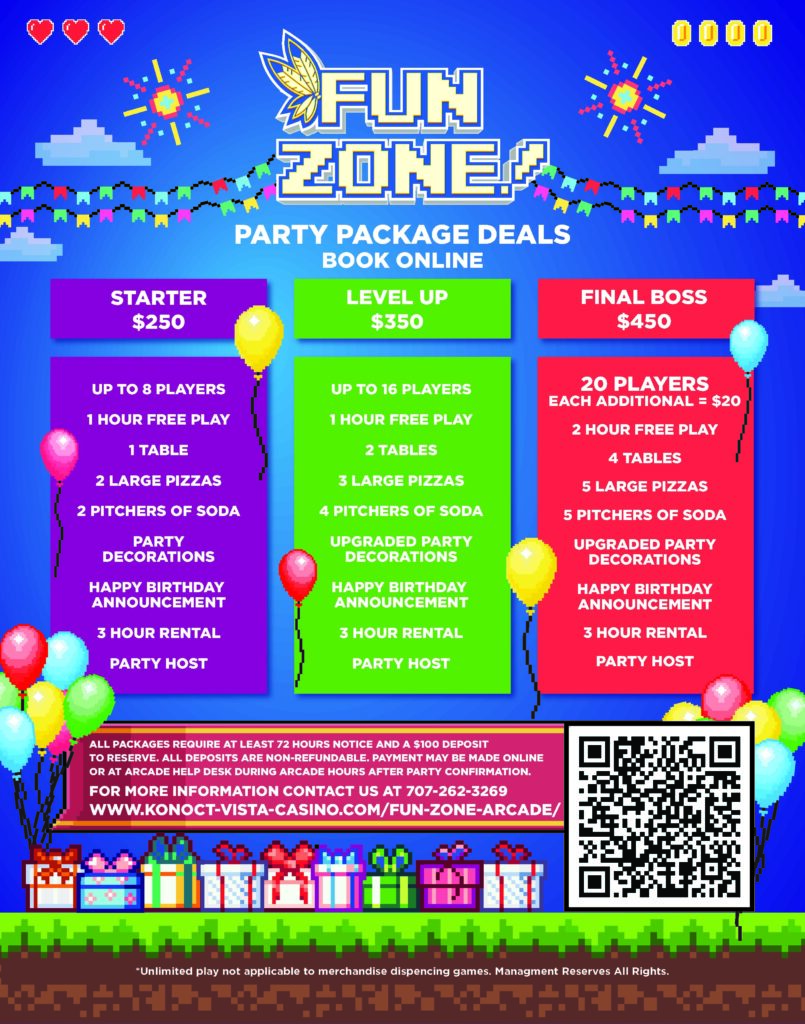 When you need a break from gaming, head over to our restaurant aptly named the HUNGER ZONE to fuel up with some delicious food. We serve a range of tasty treats, including pizza, hotdogs, nachos, milk shakes and more. And if you're in the mood for an adult drink, our arcade bar offers a selection of alcoholic beverages to help you unwind and relax.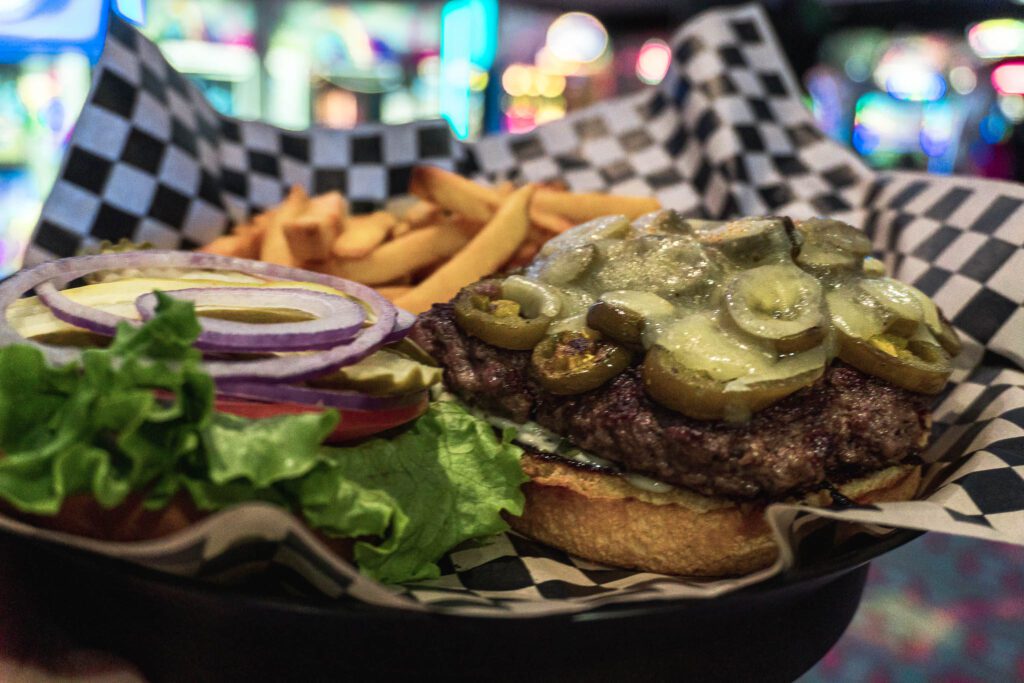 At the Fun Zone arcade, we're committed to providing a safe and enjoyable experience for all of our guests. Our facility is cleaned and sanitized regularly, and our staff is trained to follow all health and safety protocols to keep you and your family safe.
So what are you waiting for? Come on down to the Fun Zone Arcade at Konocti Vista Casino for a day of non-stop fun and entertainment!
House Rules for the Fun Zone Arcade:
Konocti Vista Casino is not responsible for the supervision of minors.
All minors under the age of 12 must be accompanied by a guardian 18 years of age or older.
Each guardian may NOT bring more than 4 minors to the facility under their sole supervision.
Food and Drinks can NOT be placed on any game machine.
You must be 21 or older to be inside the Fun Center Bar (no exceptions)
Konocti Vista Casino is a non-smoking property.
We ask that you book a party with our event staff for any of your party and large group needs. Please do not push table together within the Fun Center, decorate any tables, or bring balloons or other decorations into the building unless you have a party booked.
Rowdy, loud or otherwise unacceptable behavior will result in expulsion from the facility. Multiple expulsions may result in being excluded from the facility.
Inappropriate clothing will not be allowed in the facility.
No outside food or drink is allowed in the facility.
No loitering in or around the facility. (6 hour maximum)
Any deliberate damage done by any party within the facility will be held liable for the cost of damages.
Konocti Vista Casino holds a zero tolerance policy for gang attire and/or activity.